This article was originally published on the Oakland Voices website.
Today, we updated the Oakland Voices website–for ease of reading, maximizing visual storytelling, and improved accessibility. We also updated the Oakland Voices design and masthead to capture the history and spirit of our community journalism program, formed in 2010 by a partnership between the Oakland Tribune and the Maynard Institute for Journalism Education. We commissioned local, veteran aerosol artist Norman "Vogue" Chuck of the legendary Bay Area street art collective, TDK crew.
Chuck was engaged to create a new logo for the Oakland Voices program that reflected elements of the city's history, diversity, and pluralities. When Chuck was approached to design the logo for Oakland Voices, he said it wasn't normally something he did. While he did graphic design when he was younger, he normally paints aerosols on large-scale canvases. "I wanted to try stuff that may be challenging," Chuck said.
Oakland Voices needed a visual identity to emphasize the program's deep East Oakland roots and its long history of amplifying the voices of everyday Oakland residents. Engaging a legendary street artist like Vogue for custom artwork made sense because TDK murals are so iconic and regionally-specific to Oakland's local culture.
Chuck's artwork has been commissioned all over the world. But, he refined his art chops in the Town. Chuck started out as a youth painting the train yards in Oakland and developing his lettering flair in the 1980s. Chuck grew up in San Leandro but spent much of his career painting in Oakland. He also owned a shop in East Oakland, airbrushing and doing custom artwork on low-riders. Chuck notes that his style is influenced by BMX, lowrider culture, and nature.
Over the years, Chuck has developed an exquisite, almost hyperreal painting technique for aerosol spray paint. His influence can be seen in commissioned murals throughout the region– from the Dubs Dynasty mural at the downtown Marriott to the East Bay Dragons mural and Ghost Ship fire memorial. In 2018, Chuck's work was curated by the Oakland Museum of California in the exhibit titled RESPECT: Hip-Hop Style and Wisdom.
"Oakland allowed me to thrive in painting and be creative," Chuck told Oakland Voices about his love for the Town.
Oakland Voices design inspiration in murals and mastheads
The new Oakland Voices visual identity uses the old English font for the word "Oakland" as a nod to The Oakland Tribune masthead, where the community journalism training program first began. Oakland Voices was co-founded by Martin Reynolds, managing editor at the Tribune at the time and now Maynard Institute's Co-Executive Director. The Oakland Voices program emerged from a partnership between the Oakland Tribune and the Maynard Institute so it was important to capture the program's history in the new design.
Another part of the inspiration for Oakland Voices' new look was the "Oakland is Proud" mural, painted by Chuck's TDK crewmate, Del Phresh. The original mural located on East 12th Street no longer exists, but many artists have painted the phrase including Ise Lyfe's 2013 art exhibit called Brighter than Blight.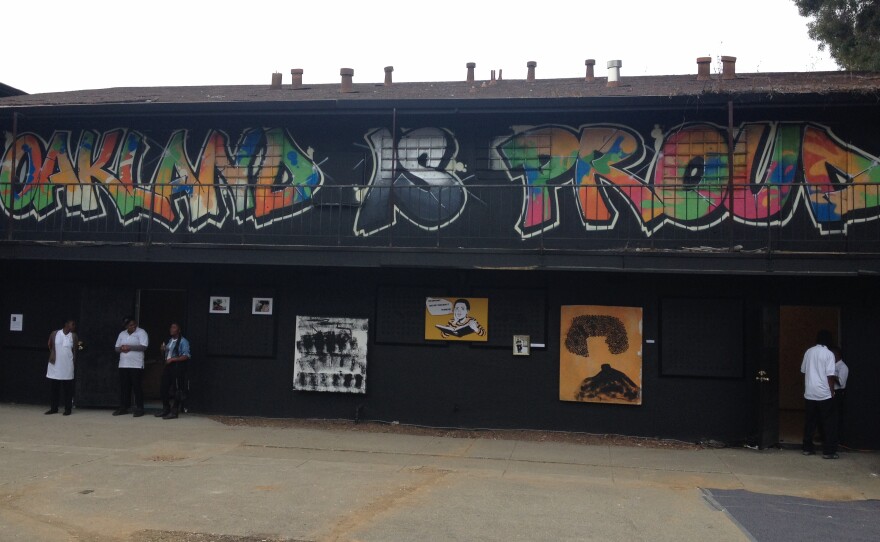 The lettering of "Voices" is a throwback to East Oakland street art culture. The early years of the Oakland Voices program focused on training community members specifically from East Oakland to tell stories of their neighborhoods.
The collage color palette was influenced by the mash-up of design elements, directly influenced by local street art and the Maynard Institute's branding. The choice of green as the primary color echoes the city's green street signs, and more importantly, the iconic green patina of the Oakland Tribune Tower bronze roof. Oakland Voices is over 10 years old and still thriving. The new design's primary green color is both minty fresh and rooted in Oakland's rich history. Just like oxidized bronze grows more beautiful with time and exposure, so does the Oakland Voices program.
Inclusive design process with Oakland Voices alumni
Some Oakland Voices alumni participated in the design process. Marabet Morales Sikahall (2016) and Tony Daquipa (2016-2017 and 2022 Maynard 200 Fellow) both went to Chuck's art studio in San Leandro to look at the design and give their thoughts. Sikahall grew up in East Oakland and Daquipa lives in East Oakland.
Chuck had created an initial mock up before the meeting. "We all agreed we liked the old English, and we agreed that we also liked the way the other Oakland worked," Daquipa said about the process. "So [Chuck] said, I'll make the Voices look like this. So we all participated."
Chuck said that sometimes these things go bad in person, with too many ideas, "because they don't usually know anything about art, but it went really well."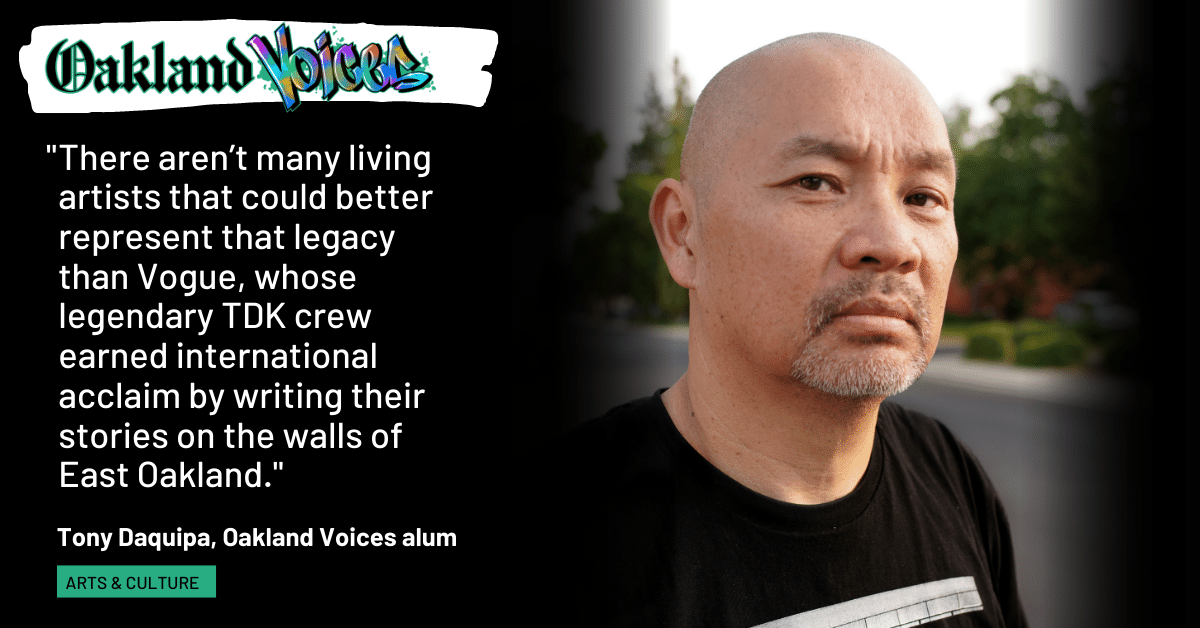 Sikahall, who is now the Program & Community Manager at Oakland's Chapter 510, a nonprofit youth writing center, said that Oakland Voices–and the new logo–represents Oakland well.
"This is the real Oakland, that's always made ripples in the world. Oakland is small but mighty–I've always thought that about Oakland. The logo is one of these opportunities to say, we're here, we're going to keep kicking butt. Oakland Voices has succeeded in that it's maintained its integrity by honoring that truth of Oakland, because people take storytelling to heart. Oakland Voices is just a really amazing community of people, people who grew up in Oakland but also people who moved to Oakland and felt naturally at ease in Oakland."
Daquipa adds that he is proud to be associated with Chuck in any way, as he sees him as one of the most legendary–and certainly of living graffiti artists–of the Bay Area.
"There aren't many living artists that could better represent that legacy than Vogue, whose legendary TDK crew earned international acclaim by writing their stories on the walls of East Oakland," Daquipa added.
About Oakland Voices
Oakland Voices is a journalism training program led by the Maynard Institute for Journalism Education that trains Oakland residents to tell the stories of their neighborhoods. Oakland Voices correspondents are trained in digital media storytelling — writing blogs and online pieces, taking photos, shooting video, and using social media to discuss issues that matter most in their communities. Visit oaklandvoices.us for the latest stories and more!