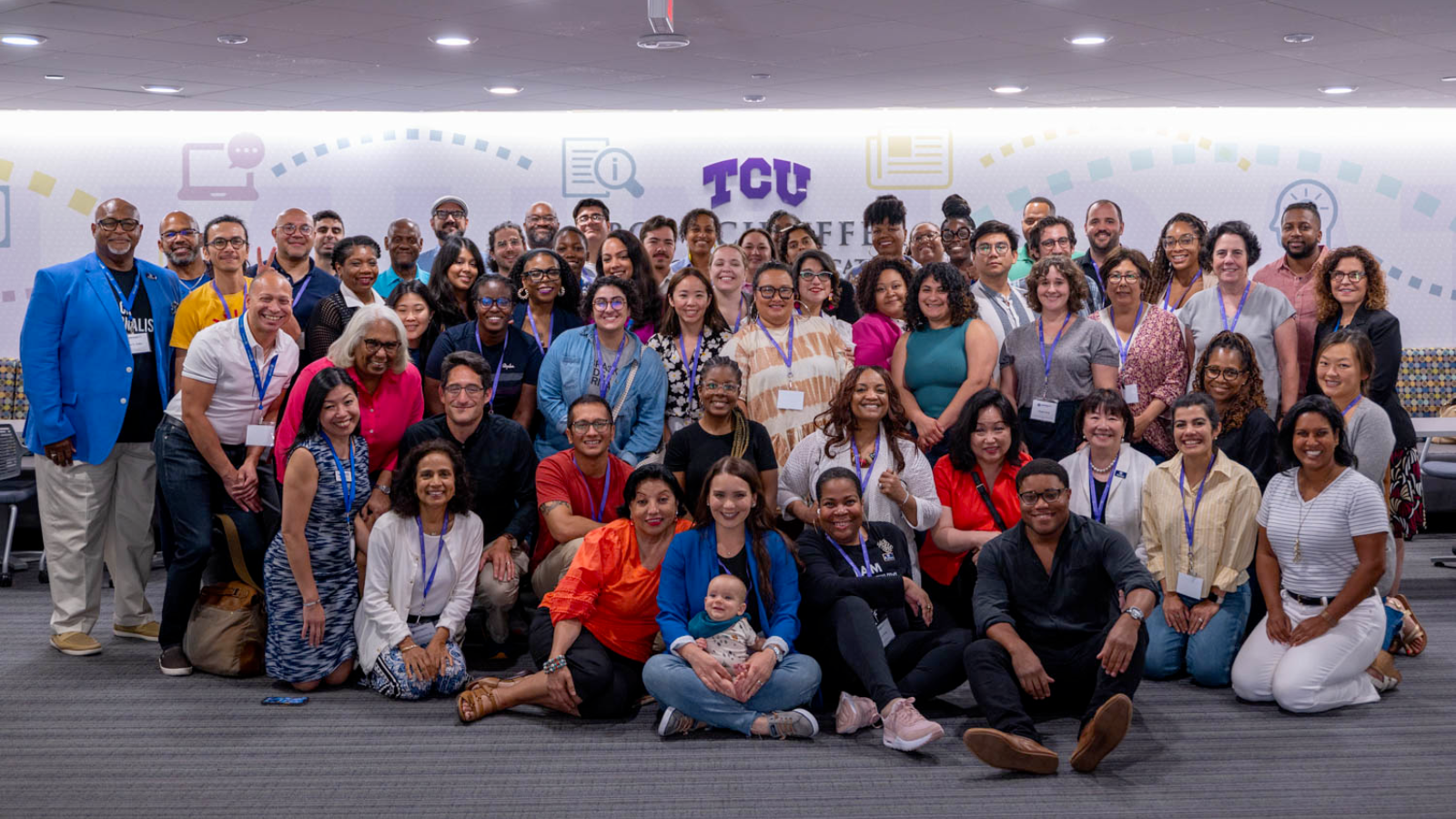 The Maynard 200 Fellowship kicked off the program with its first training week grounded in the Maynard Institute's core DEI and Belonging framework focused on dismantling structural racism in America's newsrooms. The 49 fellows of 2023, coming from a range of media platforms including print, broadcast, multimedia and online arrived in Fort Worth, Texas in late June, ready to work toward change and with a dedication to transforming their newsrooms for equity.
Hosted by the program's university partner – the Bob Schieffer College of Communication at Texas Christian University (TCU) – media leaders representing diverse geographic, racial and ethnic backgrounds bonded not only in the swelter of a Texas heatwave, but also in the responsibility to bring the power of diversity, equity and belonging back to their newsrooms.
Since its inception in 2018, the Maynard 200 Fellowship has bolstered fellows' leadership power and has contributed to the journalism industry's impact by providing advanced training to mid-career media professionals. The curriculum is customized across learning tracks designed for investigative storytellers, frontline editors and managers, executive leaders and media entrepreneurs and product developers.
The tuition-free program's in-person week of education and connection gave the media fellows an opportunity to participate in powerful discussions and collaborative projects that transform their work in the media world and shape their professional growth.
Session highlights from story-pitching to UX design
Fellows in three cohorts - frontline editors and managers, executive leaders and media entrepreneurs - also kicked off group projects with leading news organizations Mother Jones and Dallas News to create meaningful change in those newsrooms.
Incoming fellows are affiliated with a range of nationally recognized publications, community-powered media and emergent ventures including the New York Times, Oaklandside, KQED, Kansas City Defender and the Maynard Institute's own community journalism training program Oakland Voices.
The fellows were collectively led through over 60 engaging training sessions delivered by 45 faculty members, some of whom were in previous Maynard 200 Fellowship cohorts. Breakout sessions were divided by the cohort tracks to share in the knowledge and skills of fellows on topics including investigative story-pitching, hands-on editing, media disruption, product strategies, financial leadership, talent recruitment and techniques for building resilience while reporting on traumatic events.
Before the in-person sessions, fellows were asked to complete the Gallup StrengthsFinder assessment. Jean Marie Brown, TCU's Associate Professor of Professional Practice, held one-on-one sessions explaining to the fellows how to position their strengths in their work using their Gallup results.
The plenary large-group learning sessions included all fellows to foster learning from each other's expertise and multi-layered perspectives. The goal of these sessions was to embrace each of the participants' diverse backgrounds and life experiences.
In one session, consultant Adriana Lacy led the cohorts through a product development workshop demonstrating user interface interactions and customer experience.
Fellows react to Supreme Court decision during session
Every year, the Fault Lines® session is foundational to the Maynard 200 Fellowship curriculum. The Maynard Institute's Fault Lines® DEI training methodology explains race, gender, sexual orientation, generation, geography and class, as they apply to journalists, newsroom collaboration and coverage. Co-led with TCU faculty Jean Marie Brown and the Maynard Institute's Co-Executive Director Martin G. Reynolds, the training is based on addressing personal bias and asks the fundamental question: How can you be a dismantler of systemic racism in your organization?
During the Fault Lines® plenary session, just as Reynolds changed the slide to read "Are you ready to get uncomfortable?" faculty and fellows learned of the U.S. Supreme Court ruling declaring affirmative action as unlawful, gutting race-conscious admissions at Harvard University and University of North Carolina with repercussions across the nation's colleges and universities.
The news sparked an emotionally-charged and raw discussion surfacing lessons, personal experiences and remembrances of previous Supreme Court decisions impacting the daily lives of everyone in the room.
Maynard Institute Board Chair and Maynard 200 Fellowship faculty member and mentor, John X. Miller delivered an empowering speech reminding the editors, media entrepreneurs and journalists of their call to action and to use the decision as fuel for their newsrooms for change and equity. "Take that anger that you have…and turn it into action" he said.
"We recognize that we are in the position to be the change that we want to see in the world," said Miller. "Feel as though you are empowered to make that change."
What's next for Maynard 200 Fellows
The Maynard 200 program adheres to an all-teach, all-learn framework where not only faculty members provide training, but all participants learn from each other's expertise and multi-layered perspectives. It embraces each of the participants' diverse backgrounds and life experiences.
A second and final training week will be held virtually in October 2023, when the storytellers, leaders, frontline editors and entrepreneurs will finalize their business case study projects, sharing their research and lessons learned during their time in the program.
Then, the Maynard 200 Fellowship program's unique one-on-one mentorship component continues well into 2024. After the formal training curriculum concludes in October 2023, each Maynard 200 fellow is paired with a veteran media professional or issue expert who has committed to mentoring the fellow for a full year.
About the Maynard 200 Fellowship
Maynard 200 is the cornerstone fellowship program advancing the Maynard Institute's efforts to expand the diversity pipeline in news media and dismantle structural racism in its newsrooms. It is designed for and serves the next generation of media leaders, storytellers, editors and entrepreneurs, in order to advance their career growth and leadership power in newsrooms and organizations. The professional development program provides customized training courses, resources and 1:1 mentorship by industry professionals, to fellows who have represented a wide spectrum of racial, gender and geographic backgrounds. Maynard 200 has been supported by Craig Newmark Philanthropies, Google News Initiative and The Hearthland Foundation.
Questions?
For more information about the Maynard 200 Fellowship, please reach out to: Maynard 200 Director, Odette Alcazaren-Keeley at okeeley@mije.org.