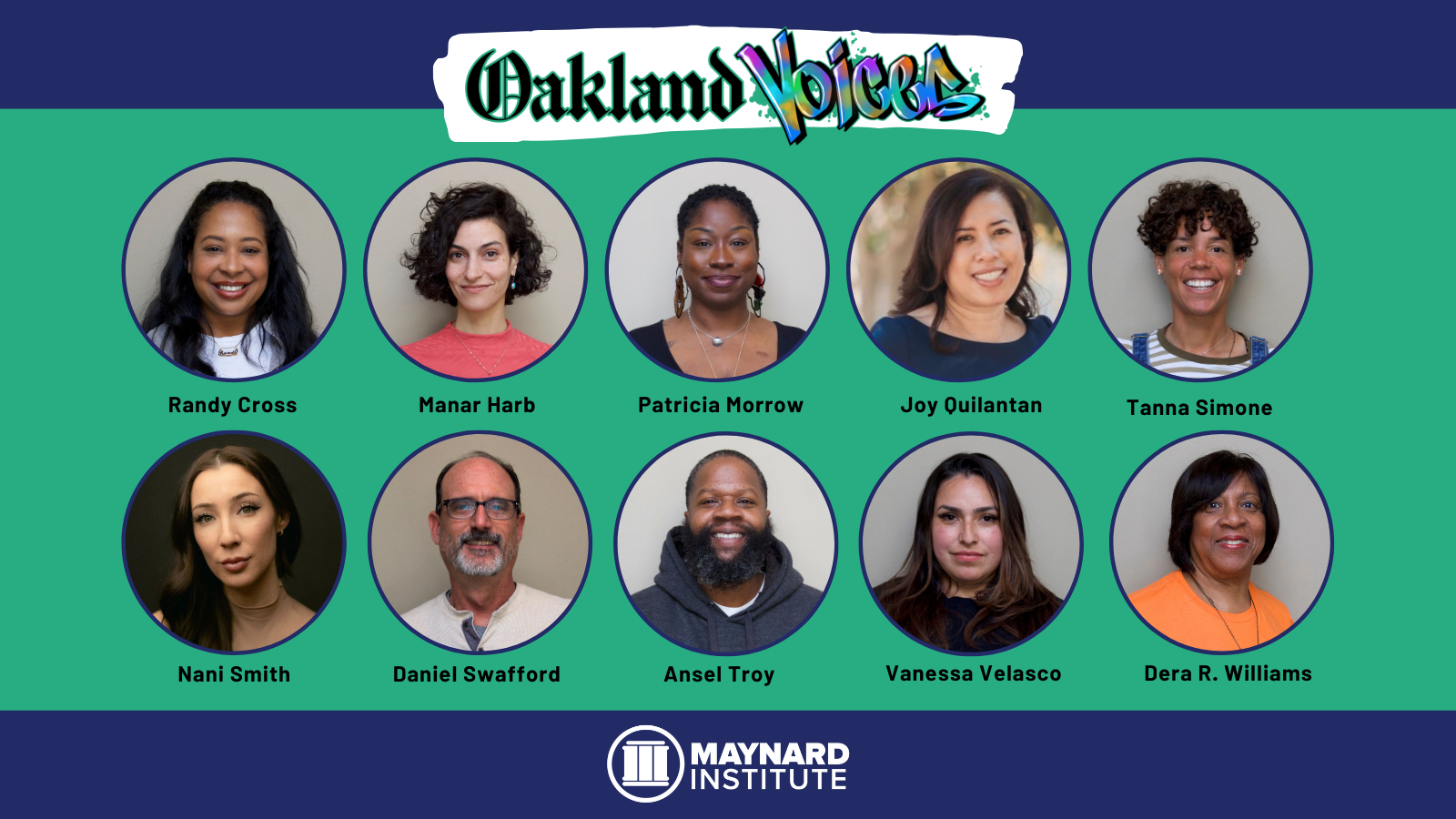 This article was originally published on the Oakland Voices website.
Oakland Voices, a community-driven initiative, has launched its highly anticipated 2023 Community Journalism Academy, aiming to amplify the voices of Oakland residents and redefine the narrative about the town. This year, ten dedicated Oakland residents will participate in the program, acquiring essential journalism ethics, practices, and storytelling skills while contributing impactful stories to the Oakland Voices website.
Community Journalism Academy
This year's program launched in May. The program curriculum includes training on journalism ethics, the Maynard Institute's Fault Lines framework, news reporting, interviews, health- and arts & culture- reporting, and opinion/column writing.
Oakland Voices co-director Rasheed Shabazz developed the curriculum, building on the work of former program coordinator Brenda Payton. Working journalists support the program by leading workshops and sharing their experiences in the field and the newsroom. Most training takes place at Oakland Public Libraries.
Fostering passion, unique voices
"We have an amazing group this year," exclaimed Shabazz, expressing his admiration for the passionate participants who deeply care about their communities, neighborhoods, and the issues affecting their loved ones. The program celebrates their dedication and seeks to empower them as they continue to hone their unique voices, effectively representing the diverse perspectives within Oakland.
Opportunities for Growth
"They are passionate about their communities, their neighborhoods, and the issues that matter to them and their loved ones," Shabazz added. "I am grateful to work with them as they continue to develop their voices."
When correspondents complete the program, they will develop a portfolio of stories and be eligible to join Oakland Voices' alumni program, led by program co-director Momo Chang. Program alumni receive payment for contributing stories to the website along with support with publishing in other outlets.
Participants also earn up to $1,000 while in the academy.
The loss of local journalism in Oakland
With the decline in traditional newspapers and the struggle to adapt to the digital age, many local news outlets like the Oakland Tribune have ceased daily operations. As a result, residents have experienced a dearth of reliable, in-depth reporting on local events, issues, and government activities. This loss has had serious implications for civic engagement, community awareness, and accountability, as crucial stories and voices have been left untold and unheard in Oakland.
A Decade of empowerment
Oakland Voices has a remarkable history of helping fill this information gap since its inception in 2010. The program has trained over 70 community storytellers. These empowered voices have artfully conveyed the stories of their communities through print and online platforms, as well as radio broadcasts and live shows in partnership with KALW. The initiative's roots in a collaboration with the Oakland Tribune newspaper have fostered its evolution as a unique, independent, and indispensable community news and information source.
Oakland Voices, Oakland futures
Looking ahead, the program plans to launch a podcast series in 2024, expanding its reach and enhancing storytelling opportunities. By 2030, Oakland Voices envisions training 100 Oakland community storytellers, aiming to bridge the gap caused by the loss of local news outlets and to continue serving as a powerful voice for the community.
2023 Community Journalism Academy:
-Randi Cross -Manar Harb -Patricia Morrow -Joy Quilatan -Tanna Simone -Nani Smith -Daniel Swafford -Ansel Troy -Vanessa Velasco -Dera R. Williams
Oakland Voices is a program of the Maynard Institute for Journalism Education. The program has been supported by the California Endowment, Google News Initiative, and the Akonadi Foundation.
ABOUT THE MAYNARD INSTITUTE FOR JOURNALISM EDUCATION
For more than 45 years, the Maynard Institute has fought to push back against the systemic lack of diversity in the news industry through training, collaborations and convenings. Founded by Robert C. Maynard, the Institute promotes diversity and antiracism in the news media through improved coverage, hiring and business practices. We support efforts to change the narrative about Oakland by providing journalism training and a platform to amplify the voices of Oakland residents.